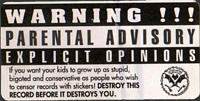 FAVORITE LINX!
BACK TO WHERE YOU ONCE BELONG!
Disclaimer!
You access or connect to these links at your own risk. The content, accuracy and reliability of, and the opinions expressed and other links provided in these links are not investigated, verified, monitored or endorsed by myself. I am not responsible for any damage done by the links below. For example, if after viewing the links, you sit back in your easy chair and you slide backwards slightly, bumping the table behind you, which knocks a radio into the pool right outside your computer room, killing the people in the pool, causing a massive short, which blacks out the entire city, but not after causing the power plant supplying your area with power, which just happens to be on a well known fault line, to explode, causing a massive earthquake, which sends California into the ocean.... IT'S NOT MY FAULT!!!

(The most part of this disclaimer was stolen from the people of the Xcdroast CD burning program, who stole it from someone else, so credits go to that unknown person.)

Updated: Long ago!